Hey there! Today I'm introducing you to Jenny from
Jessie Street Designs
and Salena from
A Little Piece of Me
.....
Hello Everyone! I'm Jenny from Jessie Street Designs and I thrilled to be here with Heather to help to celebrate her 200 readers at A Cupcake Love Affair :)
I am a stay-at-home mom to three children - a four year old boy and three year old twin daughters. To pass the time "while my pretty ones sleep" I love to sew and work on DIY projects. Eventually, I decided to take this love of sewing and DIY up a notch and my etsy shop - Jessie Street Designs - was born.

The shop name, Jessie Street Designs, was inspired by my incredibly talented grandmothers - my maternal grandmother lived on Jessie Street and my paternal grandmother's first name was Jessie! In addition to many other things, they taught me that nothing beats a handmade item and many of the dresses and sweaters they made for our family have been cherished and handed down through generations:)

I love to find fun patterns and fabrics for my projects and each item is handmade by me in my smoke-free studio.
In addition to creating items for my shop, I also have a little blog called Jessie Street Designs where I share my decorating, cooking, organization and crafting adventures! If you like to read, I also co-host a monthly "Ready, Set....READ" book link party. I hope that you will stop by and say hi!!
Jenny is offering one item from her shop to the winner of the giveaway. How cool is that? Head over here to take a look...
Blog // Etsy
Hi, my name is Salena! I'm a wife, mother of 6, and a grandmother of 3. I am a stay-at-home mommy to my 3 little girls.
My blog centers around my daily life, marriage, parenting, things that interest me, what I'm passionate about and basically just where my heart thoughts lead me.
In my shop you can find handmade accessories.
Salena is a fantastic woman and awesome friend! She is offering a medium ad space on her blog for one month! Check her out here:
Thanks, ladies! Make sure you stop by on Friday and enter the giveaway for your chance at the awesome prizes! Here's the button for your side bar! Share with your friends!!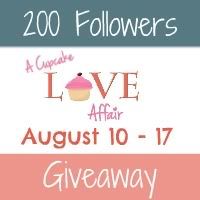 Until next time, happy reading and more importantly, happy cupcake-ing!