I'm a crafty mom of 5 fantastic kiddos. I mostly blog about sewing, cooking, crafting, and my favorite, crocheting. There is a bit about family too just for fun.
I'm really excited to help Heather celibrate reaching her goal. Heather is so sweet, I'm so glad we have been able to get to know each other.
I am offering one large open cabochon necklace in the winners choice of color.
The pendant measures 1 inch across and will be on a 12 inch silver ball and chain necklace.
Blog
//
Facebook
//
Pinterest
I'm Kara and I blog over at Happy Go Lucky.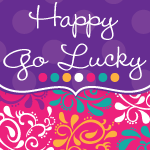 I'm the mother to a very spunky 4 year old, a Navy wife and a 6th grade reading teacher. I love being creative and started my blog to help pass the time while my husband was deployed. I love sharing fun and easy DIY projects but I'm also loving all the fabulous bloggers I've met along the way.
Now for the fun part! To help Heather celebrate this fabulous event, I will be giving away a pair of filigree earrings. The winner will be able to choose between round or diamond and can pick any color they want.
Congrats again Heather and thanks for being such a wonderful bloggy friend!!
Hi! My name is Pamela from Pamela's Heavenly Treats.
I am a wife, mother of 6, homeschool teacher and I have a small Healthy Cupcake & Cookie business. Everything that I make is made with 100% Whole Wheat Flour and my secret ingredients. I also have a Etsy shop where I sell my healthy mixes..
Pamela is giving away ad space on her side bar for one month and a $5 credit to her awesome shop! Check her out here:
Thanks so much, ladies, for being a part! To my readers - I promise there will be a cupcake post tomorrow! Also, I'll be sharing some personal news sometime this week, guest posting at
Pamela's Heavenly Treats
, and of course, the big giveaway is this Friday!! Until next time, happy reading and more importantly, happy cupcake-ing!