Hey friends! Today I'm sharing with you the perfect cupcakes for a beach party. I got an email a couple weeks ago from a repeat client and she asked me to make cupcakes for her son's beach/pool themed party. She sent me some ideas and I jumped online to do some research and I'm sure you're gonna love the results...
Cute, right? There are three different designs: sea turtles, sharks, and beach towels and floats on the sand. I just love the way they turned out! Now, for the flavors. She requested two of the same flavors as her last order -
Marble
with
Chocolate Buttercream
and
Red Velvet
with
Cream Cheese Icing
.
For the turtles:
You'll find the tutorial on how to use these three candies plus mini chocolate chips to create those adorable turtles
here
. (Sorry, no tutorial from me this time - I need to invest in a better camera - someday...)
For the shark fins I used a gray heavyweight card stock and made my own toppers. Fold the paper in half. Once you have the desired shape drawn for the fin, trace it onto the card stock on the fold, cut out, poke a toothpick up through folded end of fin, and glue toothpick and edges of paper together to make a double-sided topper.
I hope the kids enjoyed these cupcakes as much as I did making them! Now go ahead and try them for yourself. Summer is coming to an end and what better way to remind yourself of all that summertime fun on the water?
Don't forget to come back on Friday to enter the awesome 200 follower giveaway I have planned! Feel free to grab the button below and place it on your side bar to spread the word about all the fun prizes...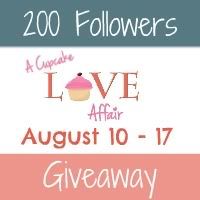 Until next time, happy reading and more importantly, happy cupcake-ing!