Hey friends! If you missed the announcement, A Cupcake Love Affair has reached over 200 followers and we're celebrating around here! I never imagined that so many people would want to read what I have to say and am just so excited about what's goin on in my little part of the bloggy world! So, as part of the celebration, I'm hosting a giveaway, featuring some of the coolest women in blog land. Grab the button below and spread the word about the giveaway if you'd like!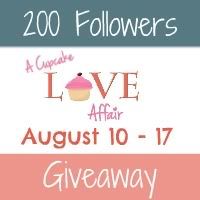 Because of the overwhelming response from some of my bloggy BFFs, I've decided to introduce them to you, a couple at a time, over the next week. These awesome ladies are donating some really cool prizes and I can't wait for you to meet them. Here are today's featured ladies. Meet Amy from
One Artsy Mama
and Melanie from
Bear Rabbit Bear Crafts
....
Hi, readers! I'm Amy, aka One Artsy Mama, and I'm thrilled to be here today helping celebrate 200 followers at A Cupcake Love Affair!!
A little about me: I'm married to my best friend, mama to our almost-4-year old Little Crafter, and I'm
happiest when I'm creating something
. When I'm not busy making jewelry, painting, or up to my elbows in some other craft project, I'm a professional ballroom, latin, and swing dancer. Honest.
I'm passionate about dance, my family, and Jesus. And, I'm addicted to Starbucks. Over at
One Artsy Mama
, you can find me blogging about kids' crafts, "big girl" crafts, home decor, family activities, holiday fun, and more! Every Friday, I co-host a big 'ol party where you can come show off your latest and greatest; I'd love for you to join us! I also have a shop where I sell some of the jewelry I make, along with digital designs like custom blog buttons and headers.
I'll be offering one of those custom blog buttons for Heather's giveaway. I will work with the winner to create a one of a kind button for your blog, a link party, a special event or series, or whatever you like. Good luck!
Amy was one of my first blog buddies and I really hope you all stop by and get to know her! You will love what you find!
Bear Rabbit Bear Crafts is a fun DIY place where we make projects that anyone can attempt. I enjoy seeing what I can craft out of recycled materials, and I don't mind sharing my failed projects as well as my successes (sometimes the fail is as educational as the success!). I have a ton going on in the month of August. Kitchen Week is August 12-18, and this will be a week of kitchen related tutorials and a fun (and stylish) giveaway. Play Kitchen Week for the kiddos will follow, where I will share a few of my play kitchen crafts and tutorials. Hope you'll stop by and check out all the happenings!
Melanie will be giving away a beautiful hand-made brooch. Just look at this....
Melanie has been a huge supporter of mine and I'm so thrilled that she is going to be a part of this milestone at A Cupcake Love Affair! You'll find her in all sorts of places, so stop by and check it out!
Thanks, ladies! I can't wait til giveaway time!
Readers, until then, go check out these awesome bloggers!